After a longtime, Raj Shekhar, had come to Khelshala and he teaches the Senior classes from 8th to 12th. Apart from teaching, he councelles and mentors the kids.
Abhinav Sinha - The director of Champion Gurukul and Founder of Rolling Nicks Foundation visited Khelshala and shared some coaching tips and gave training to our players and coaches. He encouraged and motivated our kids.
Khelshala have a little girl "Bhoomika" as a volunteer for helping our kids in their academics.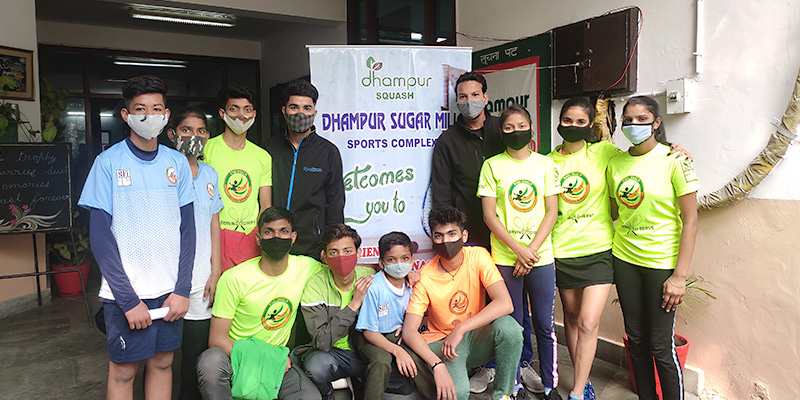 1st tournament since the pandemic started, organized by Dhampur Sugar Mill.12 kids got an opportunity to play for Khelshala and grabbed 1 trophy and 7 medals.
Don Bosco an NGO has been a partner with Khelshala since 2019. They donated face masks, sanitizers and food rations to Khelshala kids during the pandemic.
Khelshala thanks the PSA Foundation for sending much needed squash equipment.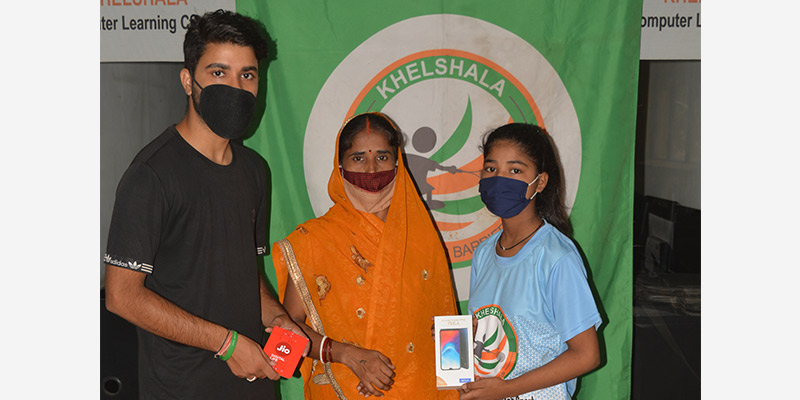 Covid-19 Pandemic - Smartphones distributed to a deserving student to continue their online classes during COVID-19 Pandemic.
Covid-19 Pandemic - Coaches and teachers are taking online fitness & academic classes.
Covid-19 Pandemic - Food ration supplied to kids and their family during COVID-19 pandemic.
Covid-19 Pandemic - Medical Kits supplied to localBoothgarh Dispensary Majra.
1st Khelshala cup/10th-year celebration of Khelshala held at Cricket Club of India (CCI) Mumbai dated 1st march 2020.
10 kids prepared competitive exam set by pioneer Education Institute. 3 students secured 3rd, 4th and 5th rank as under and are offered 40% reduced fees as a scholarship by the Institute.
| | |
| --- | --- |
| Name | Rank |
| Abhinav | 3rd |
| Ashu | 4th |
| Adarsh | 5th |
Abhishek and Anurag participated in Star-Silver Spring Indore Squash Open held on dated Jan 7 to 9, 2020 and Abhishek got 2nd, Anurag 3rd position.
23rd to 27th November, 2019 - 40 Khelshala students was participated in their home ground tournament - Fourth Khelshala Junior Open – Out of which 5 was able to enter into Semi & quarter finals.
16th November, 2019 – 30 students participating in CSA national circuit tournament held at Chandigarh.
13th November, 2019 – With the Mission Clean Attawa, Green Attawa – Third cleanliness drive being held with the support of MC Chandigarh & parents.
11th November, 2019 – Monthly Parent-Teacher meeting was organized to update the parents about the progress of their wards.
1st November, 2019 – Visit by our American Friends & donors Todd Mitchell & Jonathan Zonis.
25th October, 2019 – Drawing competition held at Khelshala on 25th October, 2019.
22nd October, 2019 – Shilpi currently studying in 10th standard has secured 14th position in National Championship.
16th October, 2019 – 10 students went to participate in Sub Junior National Squash Championship held in Chennai.
15th October, 2019 - Cleanliness Drive - A Cleanliness drive was stepped out from Khelshala with brooms, garbage bags, bins and gloves become special with involvement of parents and Municipal Corporation, Chandigarh.
12th October 2019 - Khelshala has celebrated "World Squash Day" by arranging sports and recreational activities with their community members. Children from the local surroundings have participated with great joy and enthusiasm.
9th October 2019 - ELM team of Ashoka University visited Khelshala for their project ' Khelshala Academic Curriculum and Business Plan' during their First ELM week.
25th September 2019 - Khelshala 10 years of Celebration at Utsav Indian Bar & Grill, New York on 25th September 2019 was a great success. It was a pleasure moment to see the contributions & support of friends of Khelshala in another land.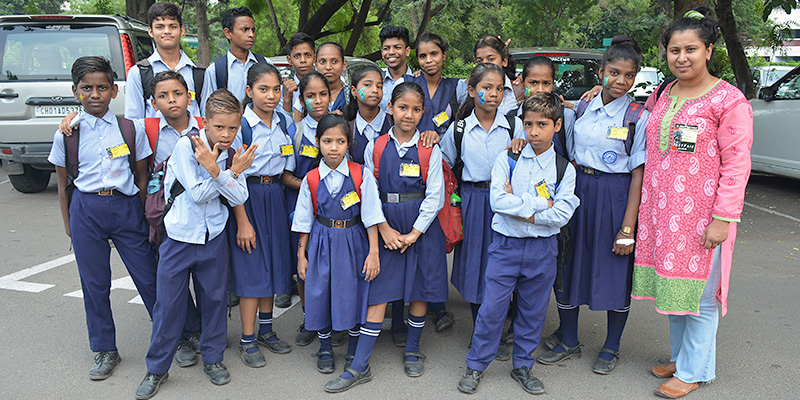 25th September 2019-Khelshala children enjoyed a lot in Just Fair at St.John's school. They also participated in various competitions like Mehndi and Poster making.
13th September 2019 - A collaboration with Ashoka University has started with 'Meet Your Client Day'. A break-out session between the ELM (Experiential Learning Module) team and the client was organised by Ashoka University ELM program team.
8th September 2019 - "If you are a champion, you have to have it in your heart." Our tennis players showcase their talent & skills and bagged the sweeping victory in Punjab District Inter school tennis tournament 2019 held at Manav Mangal Smart School, Mohali. Suwaib Khan has been selected for National trials. We wish luck & success to him....!!
6th September 2019- A workshop on the importance of First Aid was organised by Eduvelocity team to create awareness among our players/students.
2nd September 2019 - With the collaboration of Child-Friendly City Initiative, Child Parliament was formed among the Khelshala children. Kids were very enthusiastic about the concept of CP (Child Parliament) which enables them to understand the sense of responsibility towards problems around them.
29th August 2019 - Khelshala has started implementing the concept of online learning - which is one of the key criteria of our Academic Curriculum. Here kids are getting the gist of the French Revolution and find it very interesting.
23rd August 2019 - Our city should be free from Child Labour. Children should be encouraged to pursue their studies rather than working as labourers. Khelshala as a partnered organization with Child-Friendly City Initiative participated in a Child Labour Free Drive.
13th August 2019 (Clean Drive) - To mark 10th Year of Khelshala, we have started a cleanliness drive in village Attawa to sensitize the local community about the importance of cleanliness and hygiene. On that day, St. John school, Don Bosco Navjeevan Society and Municipal Corporation Chandigarh joined hands with us to make this drive a success.
03rd to 09th August 2019 - Social Service Camp is a Khelshala's initiative where people from all over the world visit Khelshala. This year Maya and Lena Thakor from US attended the camp. They were returned back to their country with a lot of learning experience in squash and beautiful moments with Khelshala children.
05th August 2019 - Khelshala has collaborated with Child-friendly City Initiative, which is a commencement towards spreading awareness among children started by Don Bosco Navjeevan Society. On 5th August 2019, they have visited Khelshala to form a Child Parliament with our kids as well as organized an awareness seminar.
04th August 2019 - Our Trustee/founder Satinder Pal Bajwa has been invited by one of the prestigious institution Indian School of Business (ISB) to discuss about the importance of sports in day to day life and sharing his journey from Harvard to Khelshala.
16th July 2019 - Our Academic Partner St. John's High School, Chandigarh has organized an awareness session for our Khelshala children about the importance of trees in our life. Along with that, they planted a number of trees, which is a symbol of prosperity in the relationship between St. John's and Khelshala.
08th July 2019 - Khelshala has come up with its own Academic Curriculum, which has started implementing from July 2019. It includes weekly assessments to monitor our children in all aspects related to their development.
19th July 2019 - Khelshala has attended an annual celebration of Child Friendly City Initiative, a step towards making a city child friendly by Don Bosco Navjeevan Society.
On 27th June 2019 - 25 Squash players from Khelshala participated in "Chandigarh State Squash Championship 2018-2019" organised at Lake Sports Complex, Chandigarh. Out of which, we grabbed 11 Medals in Category Girls/Boys U-11, U-15, U-17, U-19, and women.
On 22nd June 2019 - Priya Gupta, Young India Fellow at Ashoka University, completed her Post Graduate Diploma in Liberal Arts. Along that, she was a member of a team of five students that were chosen amongst the best 3 teams (out of 58) for the ELM (Experiential Learning Module) project.
On 4th June 2019 - Rahul Roy, a former Cornell Alumni, who now lives in Dubai visited Khelshala with his wife and children. Mr. Roy has also been a benefactor and well-wisher of Khelshala for many years.
On 2nd May 2019 - Total of 11 student - 4 not in picture - completed their 10th and 12th board examination by achieving good grades.
On 26th April 2019 - 30 students participated in "Gymkhana Club MDC-1 Squash Open 2019" tournament held at Panchkula from 26th April - 28th April, 2019.
On 2nd April 2019 - Khelshala organized a counseling seminar for students under the guidance of our Legal Advisor Mr. Rajshekhar (LL.B) to encourage them to pursue the right path for the future.
On 24th November 2018 - Khelshala student Abhishek Kumar grabbed the winner seat (BU17) in Khelshala 3rd Junior Squash Open 2018.
On 24th October 2018 - Mr. Chetan Mehrotra visited our Village Majra site.
On 22nd September 2018 - Khelshala's very own Sonu Kumar received sports merchandise from Salming Sports India as a part of his 1-year sponsorship.
On 16th July 2018 - Social service camp.
On 29th July 2018 - Khelshala receives a token of friendship from SquashBond Israel
On 1st August 2018 - Starts Cab service for Khelshala students at Village Majra. 
Our Khelshala's very own Priya Gupta adds another milestone to her tally of achievements after being awarded the Young India Fellowship (YIF) from Ashok University.
On 12th March 2018 - It was an immense pleasure for everyone at Khelshala to meet our most senior board member Anil sir after a long span of 5 years.
Extra curricular: On may 17th 2017, Khelshala introduces Martial Arts to the kids, appointing Mr. Rajiv Kumar to teach them self defence and help them develop their mental and physical strength over the summer. 
On April 20th, Gaurav Natekar - Asian Games gold medallist, India's former number 1 tennis player and CEO of Mahesh Bhupathi Tennis academies (MBTA) - visited our second Khelshala site Majra in order to host an MBTA/Khelshala Camp in September.
A fruitful association began in May 2017 between Khelshala and the Rotary Club when they offered one of our kids, Abhishek Kumar to take part for free in one of their RYLA (Rotary Youth Leadership Award) camps. On July 8th, an entire team of the Rotary (including their treasurer, secretary and Director) came to Khelshala for a presentation on dental hygiene and cancer awareness, attended by all our kids and their parents.
From November 26th to 30th, Khelshala hosted its first 2 star National Circuit Squash Tournament in Chandigarh, sanctioned by S.R.F.I. 164 junior squash players from all over India competed, including 22 of our own kids. 2 of them - Akhilesh and Sonu Kumar - made it to the quarter finals while Abhishek Kumar progressed to the semi finals and finished 4th.
Visit of Tim Wyant to Khelshala Chandigarh
Tim Wyant, a founder member and currently the President of NUSEA (National Urban Squash and Education Association), visited Khelshala in Chandigarh on 12th June 2015 and interacted with the children and staff at both our sites at Majra and Attawa.
Khelshala celebrated the 2nd International Day of Sport for Development and Peace on 6th April 2015.
This sports day was a resounding success and was attended by 200 people from different walks of life. The day commenced with the Tri-Village march in which students from Primary & Secondary School from vilage Majra, Khelshala children and staff along with the team from St. John's School Chandigarh and other local communities participated with enthusiasm.
All sporting activities like volleyball, badminton, table tennis, lawn tennis, fun athletics were enjoyed by everyone. Other activities like dance, aerobics, yoga added to the fun. The main highlight of the day was the tug of war, which involved all age groups and enabled them to mix with each other and break the ice.
Everyone had a gala time and we hope to exceed the number of attendees next year with all the love and support we get.
Explore
Khelshala kids meet Aamir Khan
Khelshala Student makes an appearance on Aamir Khan's TV Show "Mumkin Hai"
Priya Gupta, who has been a student at Khelshala since Khelshala was founded back in 2009, was recently invited to participate in a TV discussion about the role of sports as a part of education in a child's life. She was part of the panel in the pilot episode of Bollywood star Aamir Khan's new live TV show Mumkin Hai.

We are proud of the way Priya handled herself on the show and of the answers she gave in the presence of eminent TV and sports personalities including the likes of Aamir Khan, Kapil Dev and Yuvraj Singh.

Priya is one of Khelshala's most promising students. She was the recipient of a full scholarship to Sacred Heart, a private school in Chandigarh, and ranked 15th in squash in the nation. Even though she is still a student herself, Priya also mentors younger children at Khelshala.

The show aired live on Star TV at 12.30pm on Sunday, October 5, 2014.
Explore
Team from Winshuttle visits Khelshala
A team from internationally reputed IT company Winshuttle, recently visited us at Khelshala to review our computer lab. They have been kind enough to offer to support and develop a computer curriculum for our students to follow.